Discover Tresaith
The pretty seaside village of Tresaith is a jewel on the coast of West Wales, offering something for everyone just eight miles from the market town of
Cardigan
. With a blue flag beach, the famed
Ceredigion Coastal Path
running through the village and sailing events taking place through the summer months, it's a popular choice for holidaymakers and property buyers.
If you're looking to buy a home in Tresaith or Cardigan Bay, we're here to help you find the right property. Read on to discover what makes the village so special and get in touch if you'd like to discuss more about Tresaith and the surrounding areas.
History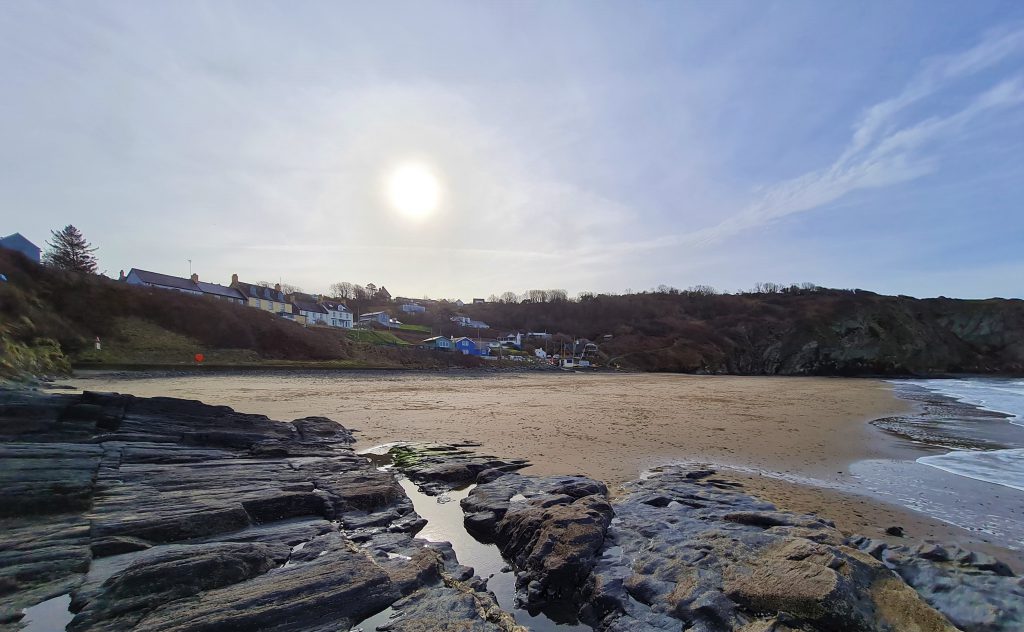 Before Tresaith gained popularity with holidaymakers, it was a tiny village of just The Ship Inn and a thatched cottage. It's grown a bit since then, but still maintains its charm with a beautiful coastal setting and homes nestled around the bay.
Local legend has it that an Irish King sent his seven daughters out to sea in a boat – after they caused him too much trouble! They landed on this beautiful part of the Ceredigion coastline and met seven farmers, who they fell in love with. Whether this tale is true we'll never know for sure, but the Welsh word for seven is 'saith' – so Tresaith is the place of seven.
Tourism & Recreation
Tresaith is famed for it's pretty Blue Flag beach, which attracts both locals and holidaymakers to this part of Cardigan Bay throughout the year. In summer it can get quite busy, as its safe, sandy bay and lovely rockpools make it very popular with families.
The northern end of the beach is where you will find the incredible Tresaith Waterfall – somewhere that no visitor to West Wales should miss. Here the River Saith cascades over the cliff tops, providing a stunning natural attraction and a refreshing shower!
There is also a second beach, accessed by crossing below the waterfall. Access to this beach is tide dependent so check on timings to avoid getting stuck!
As you'd expect from a popular beach in Cardigan Bay, you can enjoy a range of watersports here. It's a great choice for learning to surf as it's quite sheltered, but experienced surfers will choose the more challenging conditions of beaches such as Llangrannog and Aberporth.
If sailing is your thing, then Tresaith has its own club – the Tresaith Mariners, who are always happy to welcome new members. A coastal catamaran and dinghy sailing club, they host a range of sailing events throughout the summer.
Throughout the year stay on the lookout for fabulous wildlife – dolphins, seals and seabirds are all welcome visitors to the area. Walk the Ceredigion Coastal Path and you'll regularly spot them on your way to Aberporth (two miles away), and you'll find plenty of other walking tracks to help you explore the area.
Shopping
Part of Tresaith's charm is that it is a small, sleepy seaside village, so you won't find supermarkets or many shops – just a small beach shop in the summer months.
Instead you'll find plenty of retail therapy in Cardigan, where there's a Tesco, Spar and Aldi, and a great choice of small independent shops. Explore the town centre and discover the local butchers and bakers, plus surf shops, gift shops and more. Also take time to visit the Guildhall Market – a Grade II listed heritage building, which is home to over 20 different stalls selling all sorts of goods.
Cardigan also has a choice of banks – Lloyds, Barclays and HSBC for any financial requirements you may have.
A little closer to Tresaith, you'll find Hoffnant Stores at the village of Brynhoffnant (4.1 miles) which has a wide range of essential supplies. At Tanygroes you'll also find the charming Golwg Y Mor, owned by E&S Thomas, which is a family run shop that sells meats and a range of other delicious, home made products, and a CK's Supermarket with more essential supplies and a Post Office.
Eating & Drinking
Dating back to the very early days of Tresaith, The Ship Inn is still at the heart of this village community and today offers good food and accommodation. Offering stunning views across Cardigan Bay, The Ship Inn has a beachfront beer garden and offers a menu that includes delicious fresh seafood.
There's also a small cafe next to Siop y Traeth by the beach, with some outside tables.
Follow the Ceredigion Coastal Path and you'll find a choice of other pubs and coffee shops. Just over a mile up the coast at the village of Penbryn, there's a lovely coffee shop called the Plwmp Tart which serves a wonderful array of homemade cakes and savoury dishes such as soups and sausage rolls.
Alternatively, walk in the other direction and you'll come to lovely Aberporth. Here there is a choice of cafes, including the Cwtch Glanmordy, and restaurants such as The Ship Inn Aberporth, set above Dyffryn Beach on the Ceredigion Coastal Path, and serving lunch and evening meals.
Healthcare
Tresaith is still a small village, despite its growing popularity, and currently doesn't have its own doctor, but there is a Health Centre in Cardigan. The health centre has both doctors and nurse practitioners available, and is open daily, Monday – Friday. For certain requirements, such as a sick note or test results, you can also book an e-consultation.
Schools
If you're considering moving to this area of West Wales with young children, you'll find there is a choice of good schools. While Tresaith doesn't have its own primary school, the closest one is just a five minute drive (1.7 miles) away at Aberporth – the Ysgol Gynradd school. A slightly longer drive (4.1 miles) and you have the Ysgol T Llew Jones primary school in Brynhoffnant.
For secondary school pupils there is a choice of either the Ysgol Uwchradd Aberteifi school in Cardigan (7.4 miles from Tresaith) or the secondary school in Newcastle Emlyn (8.5 miles from Tresaith). School buses run from Tresaith to take students to both of these schools each day.
Cardigan also has a further education college – Coleg Ceredigion. This is well established and offers a good range of courses, depending on your child's interests. Everything from construction and hospitality, to ICT & Media, business and automotive studies are available.
Should you have a child with educational needs, including severe learning difficulties or autism, we would recommend you visit Canolfan y Don. With an experienced team and a range of specialist facilities, the school has an excellent reputation and accepts pupils up to the age of 11.
MORE INFO
Transport
In this beautiful coastal area of West Wales, you'll find that it is very rural and a car is necessary for day to day activities such as the school drop off and shopping. However, there are a number of bus services connecting Tresaith with Cardigan, Aberporth, Llangrannog and other villages around Cardigan Bay. If bus services are important to you we're happy to help you check the latest schedules as part of your property search.
Find out more…
To help inspire your move to Tresaith and the surrounding area, take a look at these other websites…
● Things to do – Click Here
● Primary schools – Click Here
● Transport – Click Here  or  Here
Alternatively, please give us a call on 01239 562 500 and we'll happily answer your questions to help you plan your move to Cardigan Bay or West Wales.